On September 16th and 17th, the American Heritage Museum will host a WWI and Aviation living history event. This is a weekend event everyone is looking forward to! We will showcase four extraordinarily rare aircraft from WWI and WWII. These aircraft are the 1918 Nieuport 28 – oldest flying and first American fighter, 1933 Waco UIC – operated by one of the first American casualties of WWII, 1944 L-5 Sentinel – flown during the Battle of Okinawa, and the 1944 L-4 Grasshopper – flown by Charles Carpenter, who was credited with destroying six tanks and disabling several armored vehicles in this small aircraft.

If the conditions are right, we will present and fly each aircraft starting around 11:00 AM. A wonderful sight seeing these rare aircraft take to the skies! This is a great opportunity for the pilots to exhibit the flying characteristics and handling of each aircraft. In addition to the historic aircraft exhibitions we will also have WWI re-enactor camps containing some
rare original artifacts and uniforms. As you tour through the camps you will learn the life of a soldier during the Great War.
Since this is a special event weekend we will have all three museums open. The Classic Car Barn features an astounding collection of early American classics from the early 1900's. Some of the notable automobiles include the very rare 1927 Rolls Royce Phantom I Phaeton made in Springfield, Massachusetts, the 1932 Duesenberg SJ that was Fred Duesenberg's personal test car and Al Capone's 1944 V-16 Cadillac (on display in the hangar). The Historic Aircraft Hangar holds a rare collection of aircraft from pre WWI, WWII and Korea. Among the variety of fully restored aircraft we have two beautiful Curtiss aircraft on display – the 1909 Curtiss Pusher and the Curtiss Model F Flying boat (last one fully restored and in flying condition). The hangar was built on the property in the early 80's to start the restoration of our B-24 Liberator and has transformed into an incredible collection of aircraft. Opened to the public in 2019, the American Heritage Museum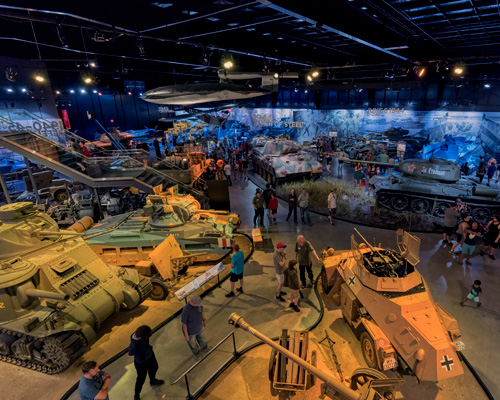 features the incredible collection of tanks and armored vehicles from the late Jacques Littlefield and his Military Vehicle Technology Foundation. But this is so much more than just displays of tanks! The American Heritage Museum highlights American military service and world history from the Revolutionary War to current time through a chronological series of immersive exhibits and displays.
For those of you who have always wondered what it is like to drive or ride in a real WWII  tank, we can help! Over the weekend we will be offering rides in the newly restored M36 Jackson and driving instruction or rides in the M4 Sherman and M24 Chaffee tanks. We recommend booking your drive or ride in advance. The majority of the cost to ride or drive in these tanks is a tax-deductible donation. Proceeds go to cover the expense of maintaining and operating the tanks and museum. For more information click here.
We hope you will join us on September 16th and 17th. Tickets are available to pre-purchase by clicking here or welcome to pay at entrance on arrival.