Arsenal of Democracy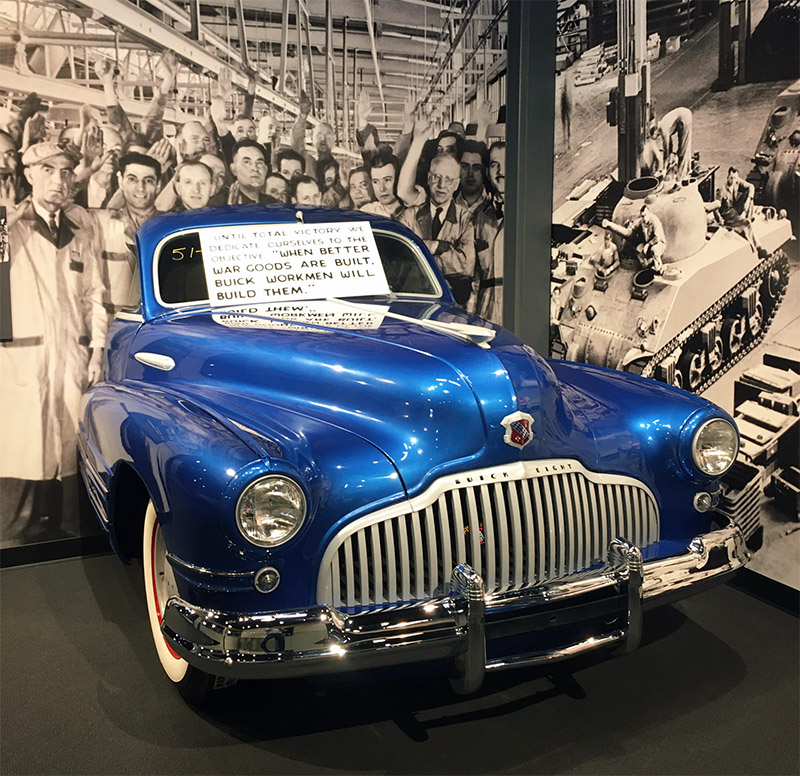 M4A1 Sherman (Grizzly) – USA | TANK
Sherman Turret Trainer – USA | TURRET TRAINER
1942 Buick Super (Front) – USA | CIVILIAN AUTOMOBILE
During the Second World War, "Arsenal of Democracy" was the slogan used by U.S. President Franklin D. Roosevelt, in a radio broadcast delivered on December 29th, 1940
to signal that the then still neutral United States would use all its immense industrial capacity to build the weapons of war needed by the last struggling democracies to save themselves, and the idea of democracy itself, from the threat of conquest by fascism and militarism in Europe and Asia.
Immediately after the United States entered WWII, our entire industrial infrastructure changed exclusively to support the war effort. All companies, large and small changed their production. A good example is the automobile industry. Ford focused a lot of their production on aircraft, primarily the B-24 Liberators – that became the most massed produced aircraft in American History. Cadillac made many components and engines for tanks and armored vehicles. Buick stopped all civilian car production and switched to making engines for the Liberators as well as armored vehicles, and tanks. Buick went on to make over 74,000 radial engines for the B-24, 2,000 M18 Hellcat tank destroyers, 600 M-39 tanks, over 19,000 M4, M10 and M26 power trains, over 2 million cartridge cases and more.
By the end of the war, U.S. industry was by itself out producing all the Axis countries combined. American trucks, tanks and aircraft were also supplied to Allied nations, from Canada to Britain to the Red Army of the Soviet Union. The Arsenal of Democracy exhibit highlights the phenomenal American industrial effort throughout WWII.