War on Terrorism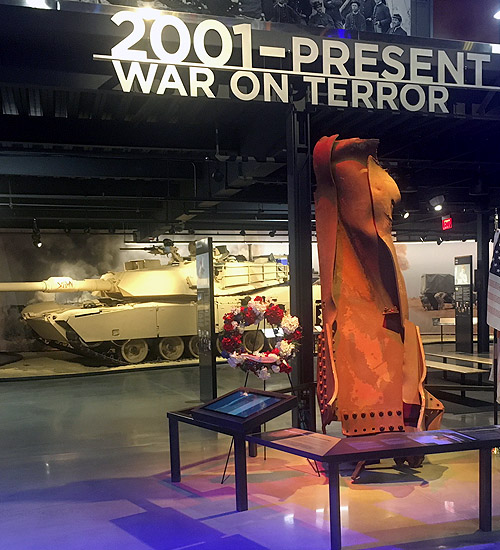 Structure from World Trade Center – USA | ARTIFACT
M1A1 Abrams – USA | TANK
QinetiQ TALON – USA | TRACKED ROBOT
Endeavor Robotics PackBot – USA | TRACKED ROBOT
Debut of 9/11 Feature Film:
On September 11, 2001, 19 militants associated with the Islamic extremist group al Qaeda hijacked four airplanes and carried out suicide attacks against targets in the United States. Fifteen of the 19 terrorists were from Saudi Arabia. Two were from the United Arab Emirates, one was from Lebanon, and one was from Egypt.
Two of the planes were flown into the twin towers of the World Trade Center in New York City, a third plane hit the Pentagon just outside Washington, D.C., and the fourth plane crashed in a field in Shanksville, Pennsylvania. Almost 3,000 people were killed during the 9/11 terrorist attacks, which triggered major U.S. initiatives to combat terrorism and defined the presidency of George W. Bush.
The War on Terror, also known as the Global War on Terrorism, is an international military campaign launched by the United States government after the September 11 attacks. In the wake of security fears raised by 9/11, and the mailing of letters containing anthrax that killed two and infected 17, The Homeland Security Act of 2002 created the Department of Homeland Security. It was signed into law by President George W. Bush on November 25th, 2002. Today, the Department of Homeland Security is a cabinet responsible for preventing terror attacks, border security, immigration and customs and disaster relief and prevention.