Pacific War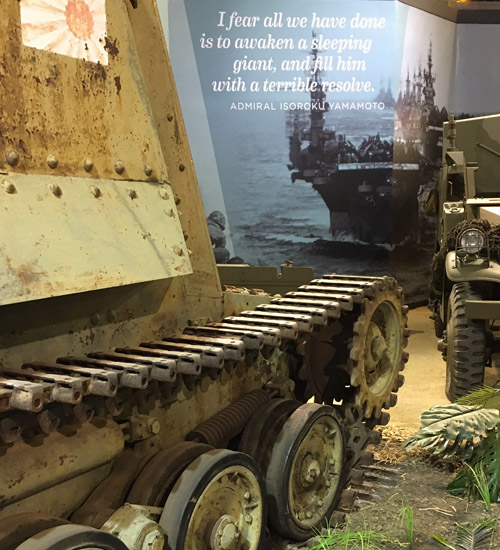 LVT(A)-4 – USA | LANDING VEHICLE
Type 4 Ho-Ro – JAP | SELF PROPELLED HOWITZER
M4A3 Sherman – USA | TANK
M29 Weasel – USA | PERSONNEL CARRIER
Daimler Mk.2 – UK | ARMORED PERSONNEL CARRIER
M3 A75mm Gun Motor Carriage – USA | HALF-TRACK
Model 97 Towed Gun – JAP | ARTILLERY
Curtiss P-40B Tomahawk – USA | AIRCRAFT – PURSUIT (To be added)
On December 7, 1941, Japan staged a surprise attack on Pearl Harbor, severely damaging the US Pacific Fleet. When Germany and Italy declared war on the United States days later, America found itself in a global war. Japan launched a relentless assault that swept through the US territories of Guam, Wake Island, and the Philippines, as well as British-controlled Hong Kong, Malaya, and Burma.
The Pacific Theater was a major theater of the war between the Allies and the Empire of Japan during WWII. It was defined by the Allied powers' Pacific Ocean Area command, which included most of the Pacific Ocean and its islands, while mainland Asia was excluded, as were the Philippines, the Dutch East Indies, Borneo, Australia, most of the Territory of New Guinea and the western part of the Solomon Islands.
In the Pacific Ocean theater, Japanese forces fought primarily against the United States Navy, the U.S. Marine Corps and the U.S. Army. The United Kingdom, New Zealand, Australia, Canada and other Allied nations also contributed forces.
The 'Pacific Theater' officially came into existence on March 30, 1942, when US Admiral Chester Nimitz was appointed Supreme Allied Commander Pacific Ocean Areas. In the other major theater in the Pacific region, known as the South West Pacific theater, Allied forces were commanded by US General Douglas MacArthur. Both Nimitz and MacArthur were overseen by the US Joint Chiefs and the Western Allies Combined Chiefs of Staff.
Most Japanese forces in the theater were part of the Combined Fleet of the Imperial Japanese Navy, which was responsible for all Japanese warships, naval aircraft, and marine infantry units. The Rengō Kantai was led by Admiral Isoroku Yamamoto, until he was killed in an attack by U.S. fighter planes in April 1943. Yamamoto was succeeded by Admiral Mineichi Koga and Admiral Soemu Toyoda. The General Staff of the Imperial Japanese Army was responsible for Imperial Japanese Army ground and air units in Southeast Asia and the South Pacific.
Though the United States won the last major battle of Okinawa, the American government decided that to keep fighting Japan would cause too many additional deaths. To try and end the war, the United States dropped two atomic bombs on the Japanese cities of Hiroshima and Nagasaki. The blasts killed over 129,000 people and left behind radiation that affected the cities for years after.
On August 15th, 1945, Japan surrendered and, on September 2nd, signed the formal documents to put an end to the war.