Crossing the Rhine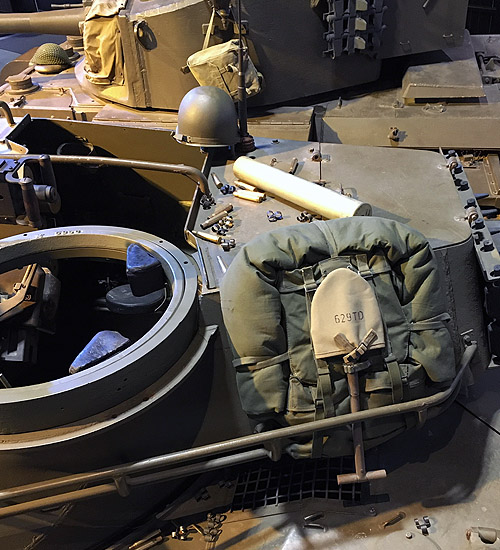 M22 Locust – USA | AIRBORNE TANK
M18 Hellcat – USA | TANK DESTROYER
A34 Comet – UK | CRUISER TANK
Two invasions of France in mid-1944, Operation Overlord in Normandy and Operation Dragoon in southern France, succeeded in moving multiple American and Allied armies to the border of Germany. Attack momentum was delayed in late 1944 by serious logistical issues and by the setback in the Netherlands and fierce German resistance in the Huertgen and Ardennes Forests. But by January 1945, the Western Allies had overwhelmingly superior ground and air forces looming all along the western borders of Germany. The problem was, how to get them over the Rhine, so that they could crush the last German resistance in the ETO and end the war.
By late January 1945, U.S forces, with their British, Canadian, and French allies, had regained the territory lost in December's Battle of the Bulge and resumed their drive eastward to defeat Hitler's Third Reich. Only one major obstacle stood in the path of their advance: the Rhine River, whose many bridges had been blown apart by retreating German armies. That forced the Allies to make an amphibious assault into the teeth of German river defenses. This strategic crossing of the Rhine river – also known as Operation Plunder, started on March 23rd, 1945.
When Allied forces reached the Rhine in early March 1945 they found just about every span across the river already destroyed. The one exception of some very important bridges that survived demolition from the Germans such as was a only partly destroyed bridge at Remagen, which was captured in a rush assault. Eisenhower decided that several simultaneous crossings over the 20 mile long battle front would have the greatest chance of success. His plan was to cross the Rhine, then drive into the Ruhr Valley to encircle a large part of the German Army and effectively end German resistance in the west. So began the massive mobilization and movement of engineers, soldiers, equipment and supplies across one of the most important river crossings of WWII.
Four thousand Allied guns fired for four hours during the opening bombardment. British bombers contributed with attacks on Wesel during the day and night of 23 March 1945 – Preparing for this monumental crossing into the heart of Germany.