World War II Tank Driving Experiences and Tank Rides!
The mission of the American Heritage Museum is to bring visitors an immersive experience in history to give a greater appreciation for those who lived it and an excitement to learn more. For the ultimate immersive experience, the American Heritage Museum is offering YOU the opportunity to ride aboard or even DRIVE a real tank from World War II… the M24 Chaffee Light Tank or the M4A3 Sherman Medium Tank!
Being a crew member or driving a tank is not particularly comfortable. These metal beasts are all business, designed to go over most obstacles with ease and destroy anything in its path. Once in a tank, it is clearly evident you are driving a machine with great power. When you're in a tank, things don't happen to you – You happen to them!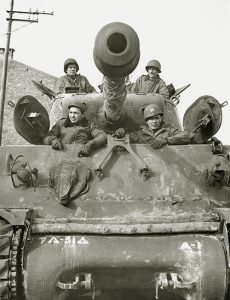 From May through October, the American Heritage Museum will offer tank riding and driving programs in the Chaffee and Sherman right here at our tank training area right behind the museum in Hudson, Massachusetts. You'll check in for your experience and be transported back to 1944 as you step aboard!
Learn about each tank riding or driving program in the listings below and book online if you desire! You may also call us to book at 978-562-9182 M-F from 9am to 5pm (ET).
All tank driving experiences are considered tax-deductible contributions and 100% of the donations for the experience goes into the upkeep and restoration of the vehicles and growth of the programs at the American Heritage Museum.
---
World War II Tank Driving Instruction Programs
Hour-Long Training Experience with 20-minutes of you at the controls of the M24 Chaffee or M4 Sherman. Select your tank driving experience below:
---
World War II Tank Ride Programs
10-minute ride experiences aboard the M24 Chaffee and M4 Sherman. Select your tank driving experience below:
---
Buy a Gift Certificate!
Do you have a special someone that you'd like to give the gift of a tank driving experience or tank ride to? We have gift certificates available for immediate shipping! Recipients can choose their own date to schedule their experience once they receive our experience certificate package. Allow up to 7-10 days for delivery in the Domestic U.S.
With support from: