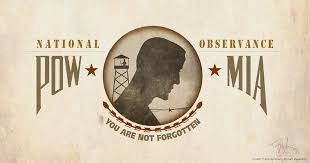 National POW/MIA Recognition Day is observed today, September 17th (commemorated the third Friday in September). It honors those who were prisoners of war (POWs) and those who are still missing in action (MIA). It is most associated with those who were POWs during the Vietnam War. This day was established by an Act of Congress, by the passage of Section 1082 of the 1998 Defense Authorization Act. It is one of six days that the POW/MIA Flag can be flown.
"You Are Not Forgotten" – that's the central phrase behind the POW/MIA remembrance movement which honors America's prisoners of war, those who are still missing in action and their families.
Many of our service members suffered as prisoners of war during several decades of varying conflicts. While some of them made it home, tens of thousands more never did.
To comprehend the importance of this movement, all you need to do is look at the tremendous number of Americans who have been listed as POW/MIAs.
According to a Congressional Research Service report on POWs:
130,201 World War II service members were imprisoned; 14,072 them died
7,140 Korean War service members were imprisoned; 2,701 of them died
725 Vietnam War service members were imprisoned; 64 of them died
37 service members were imprisoned during conflicts since 1991, including both Gulf wars; none are still in captivity
According to the Defense POW/MIA Accounting Agency, 83,114 Americans who fought in those wars are still missing, including:
73,515 from World War II (an approximate number due to limited or conflicting data)
7,841 from the Korean War
1,626 from Vietnam
126 from the Cold War
6 from conflicts since 1991
(Reference Military.com)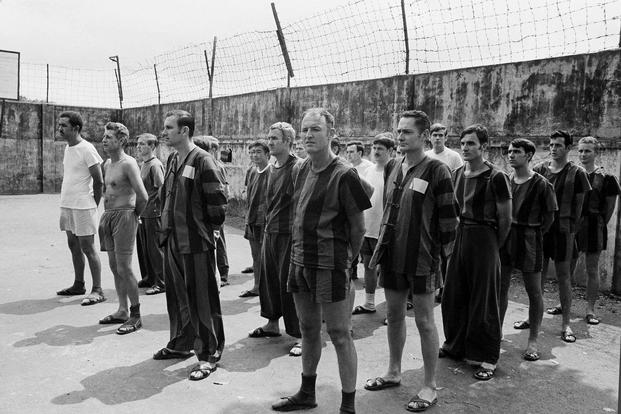 Our efforts to remember and honor our POWs and MIAs continue. The American Heritage Museum has been given the incredible honor to receive the original materials for four original cells of the Hỏa Lò Prison, infamously known as the "Hanoi Hilton" as a donation to build an interpretive POW/MIA Exhibit in the Vietnam War gallery of the American Heritage Museum. Originally disassembled in 1994, the dozens of pallets of original bricks, concrete floors and ceilings, roof tiles, cell doors, transom windows, and concrete beds with iron shackles were delivered in September of 2020.
Once inventoried, it was determined that we have enough to completely rebuild four original cells, and upon further research, it was determined that these cells were once part of "Heartbreak" – a section of the prison where American POWs were initially housed in solitary confinement upon capture.
It is extremely important to tell the story of the prisoner of war experience and this exhibit containing such rare, original artifacts is a powerful way to accomplish this. To rebuild these cells within the museum will require significant funding upon finding the right talent to perform the task.
Because of this, we are asking for your generosity in contributing to the exhibit construction fund. As a 501c3, all donations to Collings Foundation, Inc. dba American Heritage Museum are tax deductible and 100% of your gift to this fund goes right into the project at hand. For more information and pictures of the prison materials please click here.