American Heritage Museum Library Membership / Pass Program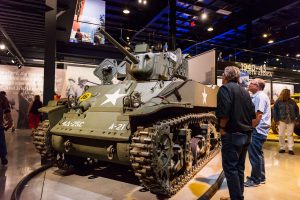 The American Heritage Museum Library Membership / Pass Program provides local libraries to offer patrons and local citizens discounted admission to the American Heritage Museum through permanent passes available for lending. Many museums in the region offer such programs to library patrons and their families and the American Heritage Museum is proud to offer the program as well to allow communities to learn more about the American efforts to fight for and defend freedom, the role of the citizen soldier in these efforts, and the role of technology in supporting these efforts.
The American Heritage Museum Library Membership / Pass Program is available for $200 annually and includes the following:
– Four (4) Reusable Half-Price General Admission Passes for up to Six (6) visitors under a single pass. Passes are not valid for special events or the annual WWII re-enactment weekend in October.
– One (1) Library Staff Membership allowing library staff, trustees, or volunteers free admission for educational and program development research.
– Member mailings of upcoming events, exhibits, and educational programs.
The passes also offer discounts on Membership purchases for the pass holder if they decide to become an Individual or Family Member when they visit. See passes for details.
If your library is interested in becoming a member of our Library Membership / Pass Program, please download and fill out the form at this link and mail with payment to:
American Heritage Museum
Attn: Library Membership
568 Main Street
Hudson, MA 01749
Or you may email it to Ryan Keough, Director of Development & Donor Relations at rkeough@collingsfoundation.org. If you wish to purchase over the phone or have questions, please reach Ryan Keough at 978-562-9182 M-F, 10am to 5pm Eastern.
Participating Public Libraries
Connecticut
North Grosvenordale, CT – Thompson Public Library
Massachusetts
Auburn, MA – Auburn Public Library
Ayer, MA – Ayer Library
Billerica, MA – Billerica Public Library
Brookfield, MA – Brookfield Merrick Public Library
Burlington, MA – Burlington Public Library
Clinton, MA – Bigelow Free Public Library
Dudley, MA – Pearle L. Crawford Memorial Library
East Brookfield, MA – East Brookfield Public Library
Fitchburg, MA – Fitchburg Public Library
Harvard, MA – Harvard Public Library
Hudson, MA – Hudson Public Library
Lancaster, MA – Thayer Memorial Library
Leicester, MA – Leicester Public Library
Leominster, MA – Leominster Public Library
Littleton, MA – Reuben Hoar Library
Medfield, MA – Medfield Memorial Public Library
Millville, MA – Millville Free Public Library
Monson, MA – Monson Free Library
North Reading, MA – Flint Memorial Library
Shirley, MA – Hazen Memorial Library
South Hamilton, MA – Hamilton-Wenham Public Library
Sterling, MA – Conant Public Library
Stoneham, MA – Stoneham Public Library
Stow, MA – Randall Library
Sutton, MA – Sutton Free Public Library
Townsend, MA – Townsend Public Library
Westborough, MA – Westborough Public Library
Westminster, MA – Forbush Memorial Library
Winthrop, MA – Winthrop Public Library
New Hampshire
Nashua, NH – Nashua Public Library
Rhode Island
Cumberland, RI – Cumberland Public Library