Battle for the Airfield WWII Re-Enactment Weekend
October 8 @ 8:30 am

-

October 9 @ 5:00 pm

$20 – $35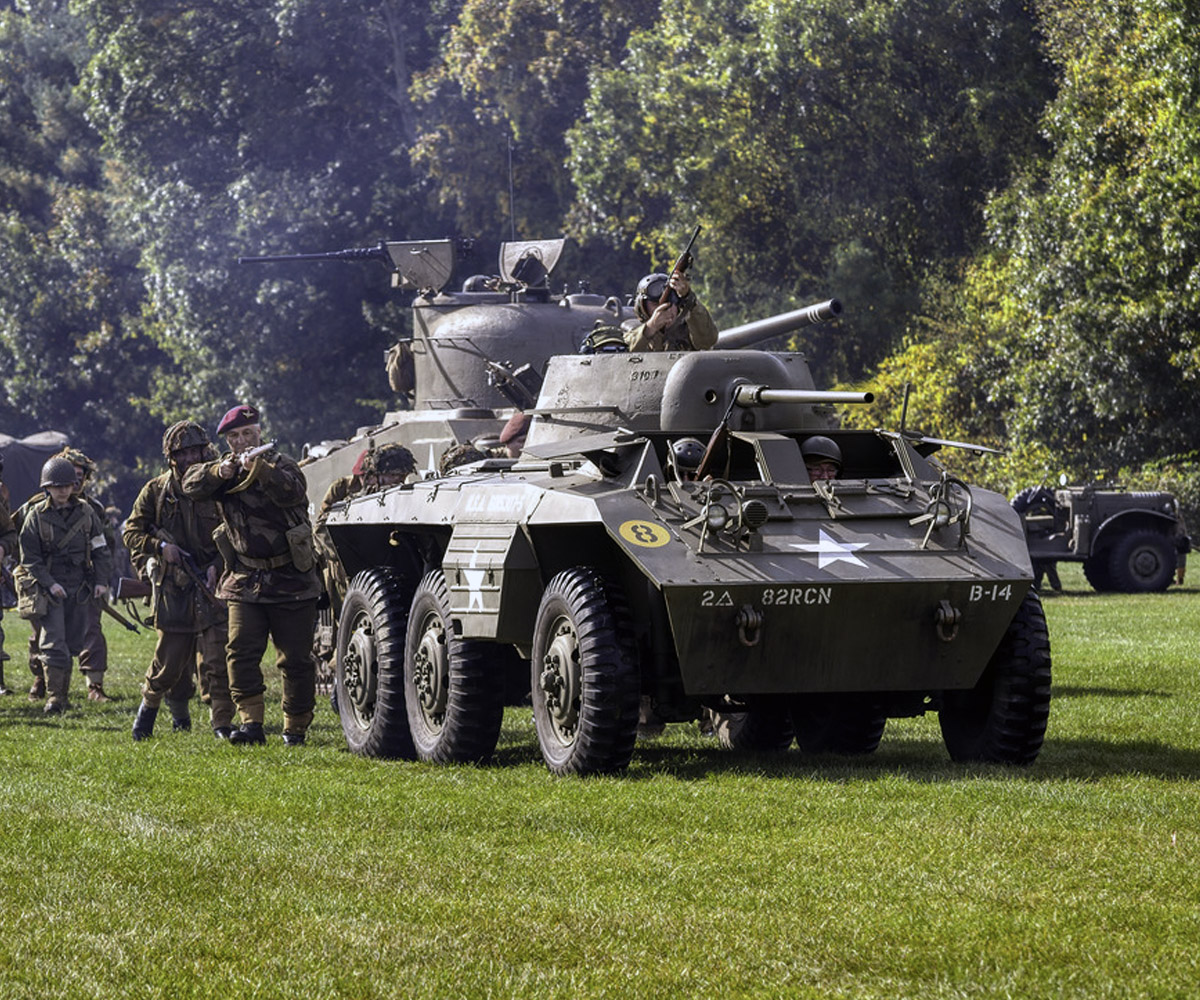 The American Heritage Museum presents the Battle for the Airfield World War II Re-Enactment, one of the premier events of its type in the United States! There will be over 350+ re-enactors representing several branches of Allied and Axis military participating in encampments and two battles each day. Fully restored military equipment of all kinds will be on display and operating in a captivating living history event. Allied and Axis camps will be set up with authentic materials and appearance. Re-enactors act as docents who share a wealth of information about life as a WWII military person. WWII Veterans from all ranks and branches of service will participate in a roundtable discussion.
Gates open at 8:30am each day and close at 5:00pm. Battles take place at 11:00am and 3:00pm. The WWII Veterans Roundtable begins at 1:00pm in the hangar.
All three museums will be open: The American Heritage Museum, The Historic Aviation Hangar and Classic Automobile Barn. This is a unique opportunity to see some of the world's most rare aircraft, extraordinary American classic automobiles, historic tanks, armored vehicles, military artifacts and much more.
There is over 100,000 square feet of space within the American Heritage Museum and Hangar combined.
Food and beverage will be available for purchase on site and picnics are allowed.
Advance Sale and Event Day Admission Tickets
Admission for the Saturday and Sunday events are as follows:
$35 Adults  |  $30 Seniors/Veterans  |  $20 Children Under 12
Members, WWII/Korean War Veterans and Children Under 3 are Free – No ticket required.
Admission discounts can not be used for special event weekends.
Purchase Tickets Online:
Click here to Buy Tickets for Saturday, October 8, 2022
Click here to Buy Tickets for Sunday, October 9, 2022
Tickets may also be purchased the day of the event by Credit Card or Cash at the entry gate on the access road as well.
MEMBERSHIP DISCOUNT PRICING
Members: Bring your membership card for discounted pricing on the day of the event. Members are $25 Adults, $20 Seniors/Vets, $15 Children under 12. No discount without valid membership card or membership purchase proof.
Tank Rides Available
Tank Rides will be taking place over the weekend. You can register online, by phone, or on-site, but spaces are limited! No tank driving experience programs available this weekend.
Tank Ride Experience Prices:
– M24 Chaffee (10 minute ride) – $595 per group of Three (3) persons – two in the turret, one in the bow gunner position.
– M4 Sherman (10 minute ride) – $595 per group of Two (2) persons – one in the turret, one in the bow gunner position.
Schedule your tank  driving or ride experience above or call 978-562-9182 to reserve.