116 combat missions and flown by two Aces, BR601 is arguably one of the most significant surviving Allied fighters in the world.
Surviving World War II aircraft are unique artifacts from a conflict that truly changed the world. How many are left? There are perhaps one hundred bombers remaining of the over one hundred thousand made by all nations. Approximately five hundred single engine fighters of the quarter million fighter and attack aircraft produced by all sides survive. Of these fighters, fewer than 10% are actual combat veterans. Most planes that remain are either training aircraft or had seen no use at all. Many brand new airplanes were cut up months after construction. A true Allied combat veteran aircraft is very rare, and Spitfire Mk. IX BR601, with its history of 116 combat missions, flown by two Aces, is arguably the most significant surviving Allied fighter aircraft in the world.
The early days of 1942 are hard to imagine. Japan was running unchecked through the Pacific in a new war against the United States. Great Britain was fighting for its very survival against Germany. The new Spitfire Mk. V ("Mark five") had her late 1941 combat debut on the same day the Luftwaffe introduced the Fw 190. The superiority of the Fw 190 shook the RAF to its core as their "new" fighter was second best the day she was introduced. The Air Ministry took immediate steps to remedy the situation, introducing an experimental engine, the Rolls Royce Merlin Mk. 61. The two-stage supercharged engine had to be in front-line fighters as soon as possible. This program was so important that both Supermarine (the aircraft builder), and Rolls Royce were tasked to convert 50 of the new air-frames (Mk. Vb and Vc) to the interim Mk. IX standard. The immediate need for one hundred Mk. IX Spitfires was of the greatest importance. Painstakingly the larger, wider and different back end of the Merlin 61 engine was shoehorned into a new mount that would hold the fury of almost 1,600 horsepower. Ancillary systems were removed, modified or replaced and then refitted by hand. Radiators, coolers, lines and fittings all had to be replaced with larger parts to allow the full measure of the Merlin 61 to be unleashed. It must have been a thrilling time for those aircraftsmen working in secret on this new and improved Spitfire.
Within months the first aircraft, AB505, was completed and tested by the Air Fighting Development Unit. Immediately after completion pilots found the aircraft was significantly improved. The report read…
"The performance of the Spitfire IX is outstandingly better than the Spitfire V especially at heights above 20,000 feet. On the level the Spitfire is considerably faster and climb is exceptionally good. It will climb easily to 38,000 feet and when leveled off there can be made to climb in stages to above 40,000 feet by building up speed on the level and a slight zoom. Its maneuverability is as good as a Spitfire V up to 30,000 feet and above is very much better. At 38,000 feet it is capable of a true speed of 368 mph and is still able to maneuver well for fighting."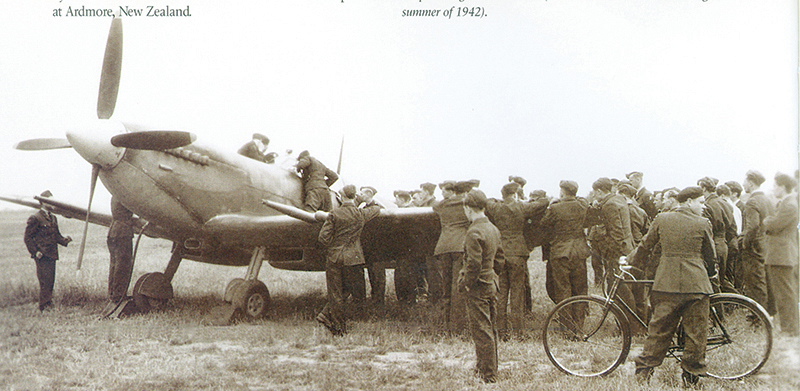 "Outstandingly better!"
The excitement felt by those in the know would have been hard to contain. The first allotment must have been awaited by anxious fighter pilots looking to get even
for heavy losses. Each early Spitfire Mk. IX was a conversion from a new Mk. V. These hand built airplanes were the only chance to regain control of European skies.
It's difficult to truly understand the significance of the Spitfire Mk. IX and BR601's place in history without a look at what Fighter Command and the Air Ministry were seeing at that time. In Early 1941 the Spitfire V was being introduced. It enjoyed increases in armament, protection and performance. Expectations for the aircraft were high. So much so that when Rolls Royce let the Air Ministry know about the successful test of the new Merlin 61 during mid 1941 and the promise of its revolutionary new two-stage supercharger design, the Air Ministry was unimpressed. Their belief was that Rolls Royce's new Griffon engine, developed from the type R motor of Supermarine S6B fame, would be on time to fly successfully in the near future and create the "Super Spitfire." Further, the Mk. V was considered to be slightly better than the Me 109 currently being met over France and there was no reason to delay production of the Mk. V to test a new aircraft. The Air Ministry and Fighter Command were completely unprepared for the introduction of the Fw 190 in August 1941, when the new Mk. V and the radial engine fighter met, the Spitfire was clearly second rate.
Soon it was clear that control of the air over the continent had been lost. Like the Fokker scourge of World War I, the Spitfire Vs began falling in unprecedented numbers. After the Pearl Harbor attack and the American entry into what was now a worldwide conflict, the RAF knew it needed to find its own answer to the problem as incoming types of aircraft from the US were inferior to the Mk. V! Losses of over 300 Mark V Spitfires in the next few months caused Fighter Command to withdraw from the skies over France, and ultimately to prohibit RAF Spitfire operations unless they were "essential" for defense. The Air Ministry initiated the push to re-engine the Spitfire with the Merlin 61 and with data from a pair of Merlin 61 re-engined Spitfire IIa's as a baseline, the "interim" Mk. IX was created. The importance of the Fighter Sweep on July 28 is not only that it was the first offensive RAF fighter sweep in many months, but if it had failed every other offensive air mission of the RAF was doomed until the advent of the Griffon Spitfire.
For BR601 to be a survivor of that historic mission, and extant today in her converted configuration, reminds us that for the previous 10 months the RAF was fighting a losing battle in the air. Those first Mk. IX Spitfires saved not only the lives of their pilots, but those of bomber crews and others who once again could operate with some protection over a hostile continent. However, the Mk. IX was only "as good" as the Fw 190, so it was a parity that saw fully half of the first hundred Spitfire IX's listed as "failed to return", and thirty percent more written off from "combat related damage" upon return.
Spitfire Mk. IX BR601 History –
Born into conflict as few aircraft are, the sixth Mk. IX conversion was BR601. Once completed, it flew for the first time on June 16th, 1942. BR601 was flown to 45 Maintenance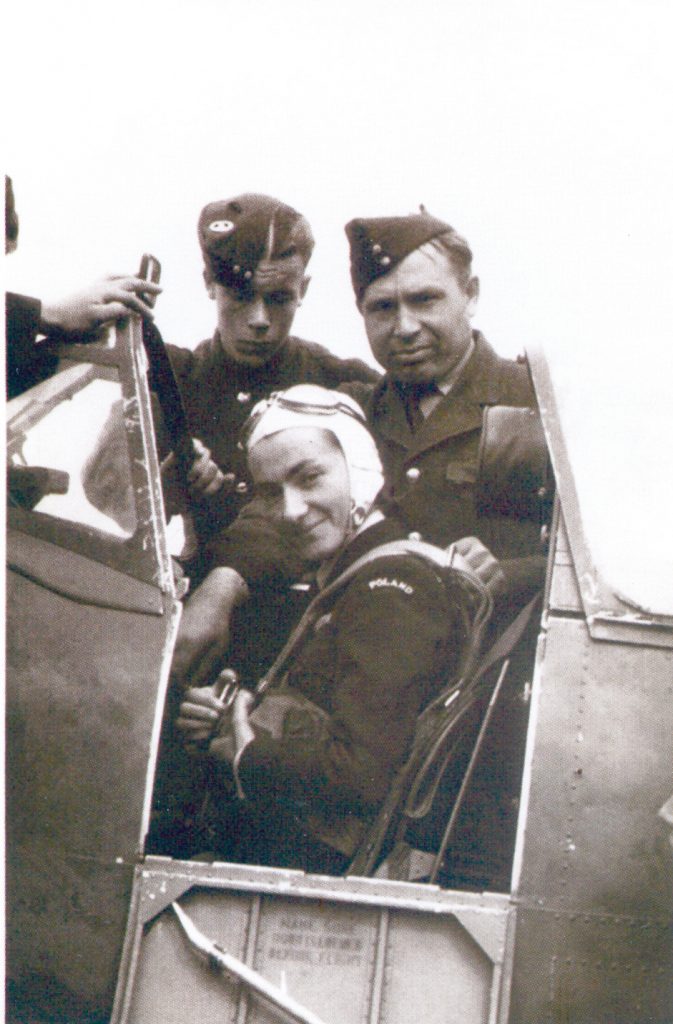 Unit (MU) at RAF Kinloss, Scotland by a Polish female ATA ferry pilot. She served with the RAF's Air Transport Auxiliary (ATA). Another Polish ATA pilot, Stefania"Barbara" Wojtulanis (picture left), flew BR601 from Scotland on July 9th to Hornchurch, a base 14 miles ENE of London, arriving on July 11th. (Picture on right shows Stefania preparing BR601 for the flight to 64 Sqn on June 17th) This Squadron would be the first to test the new fighter in combat. On July 28th, 1942, (three weeks before the first 8th AF mission) twelve new and secret Spitfire Mk. IX's from 64 Squadron flew a Rodeo mission (fighter sweep over enemy territory) to Le Havre. This was to be the first combat mission ever for a Mk. IX Spitfires and the first of 116 for BR601. Two days later during a diversionary Rodeo to St. Omer at 11:40 am on July 30th, there was a Circus (bomber escort mission) over Abbeville, St. Omer, and Le Torquet. Sgt. Johnsen was flying BR601. Over the target they pounced on nine Fw190s. Just before engagement the controller radioed in and told them a Typhoon had been shot down and to make sure they were Fw 190s before engaging. At that point all the pilots erred on the side of caution and only F/Lt 'Kingo' Kingsby destroyed a Fw 190. Later, BR601 was being flown by P/O Withy and the mission was a Ramrod over Dunkirk, St. Omer and Calais. At 15,000ft over St. Omer the squadron saw fifteen Fw 190s below. Confident in their new aircraft, the eleven pilots of 64 Sqn pounced on the Fw 190s with some success. Five Fw 190s were destroyed with the corresponding loss of eight Spitfires. The Mk. IX went on to act as escort to 8th AF bombers at high altitude, and would fill that role in the pivotal early days of the air war.
October 11th, 1942, Tony Gaze (picture right) was piloting BR601 on a Rodeo mission to St. Omer when he came upon an Fw 190. Gaze said, "Bloody near rammed it! If I'd had a gun-camera it would probably have confirmed this as there were more than a dozen strikes on the wing roots and fuselage, but I broke away too sharply to watch it go down as his number two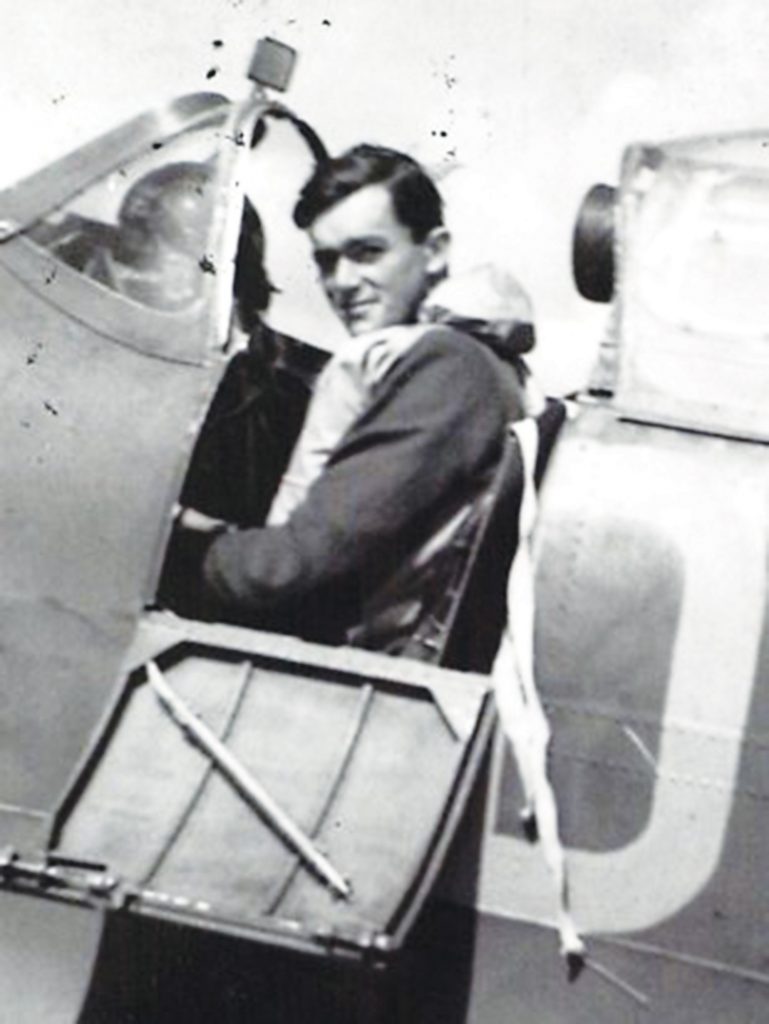 was too near for comfort." In Gaze's biography Almost Unknown he further explains, "As he had flown through the 190's condensation trail his Spitfire was covered with ice. He was completely blinded, was on instruments and in enemy skies. For all Tony knew there could have been other 190s around him and he would have never known what had hit him if he was attacked. He climbed to 35,000 feet, weaving all the way and flew blind towards home before doing a fast and straight 'downhill run' until the ice melted. He says he had never been more frightened in his life." Very bold words from a man who was shot down over Nazi Europe and escaped with the help of the underground! A bit of a reversal for the plane came on October 21st when BR601 departed Farlop heading for Bolt Head. At the controls was New Zealand's highest scoring ace, S/Ldr Colin Gray. On landing, BR601 burst a tire, resulting in the wing striking the ground and the undercarriage collapsing. Damaged BR601 was listed as Cat B damage from a flying accident. Ironically this is the only time that BR601 sustained heavy damage, and it was not from combat!
On February 26th, 1943, she was sent to 39 MU at RAF Colerne in Wilshire to be stored and then prepared for reissue to a front line squadron. On April 2nd, BR601 was finally sent to her second assignment, 453Sqn, Royal Australian Air Force based at RAF Hornchurch. On April 4th, BR601 flew her first mission with 453 Sqn and remained there for a month. BR601 was moved to 129 Sqn on July 17th. Then she possibly went off for a major service or modification upgrades before being reassigned to 316 (Warszawski) Sqn on the August 28th. The plane was renamed as SZ-H. BR601 eventually ended up with 165 (Ceylon) Sqn in Stanton. 165 Sqn was detached to fly cover for damaged Allied aircraft and engage enemy fighters up through the end of 1943. By the end of BR601's combat career, she had flown an incredible 116 combat missions! These missions included fifty-eight flying escort and fighter cover for B-17s, B-24s, B-26s and other bombers, fighter sweeps, strikes and even shipping protection. BR601 was just another Spitfire during 1945, albeit an early one with a life of hard use.
By war's end an amazing 5,656 Mk. IX Spitfires had been produced, the greatest number of any one variant of the Spitfire. Total Spitfire production was over 20,000 aircraft. Interestingly, the fates of these first one hundred Spitfire IXs tells much about the hazards of being a front line fighter aircraft in 1942. Nearly ¾ of these planes were destroyed as a result of combat operation. Failed to Return from enemy territory, Fighter Operations: 48 aircraft, most lost during 1942-43. Category E damage, Fighter Operations: 23 aircraft, loss dates from 1942-1945. Unknown or lost during other operations: 5 aircraft. 24 aircraft remained. Late 1945, 11 were sold to other Air Forces and 13 scrapped postwar. BR601 was one of three sold to the South African AF and now the sole survivor of the original group of 100.
Post War Survival –
On October 11th, 1949, BR601 was allocated to the SAAF (South African Air Force) and was packaged up and shipped to South Africa. Two other survivors of the "first hundred", BS125 and BS200, were shipped there as well. On March 13th, 1949, Spitfire IX BR601 arrived in South Africa and became 5631 of the South African Air Force. In 1952, BR601 was grounded and used as an instructional airframe. Sold for scrap on October 19th, 1955, she sat in a yard with the chunks of several others before being used as a pattern and parts source for the restoration of Spitfire MA793 (now in Brazil). As payment she was "restored" to static display and placed on a pole in the yard during 1976. Oddly, the early history of the Mk. IX was not appreciated at this point, as the plane was considered "just another Spitfire." Removed from the yard in 1986, she was shipped to England and then auctioned and sold into further storage. Several museums and groups began to consider restoration of BR601, but the size and scope of the project caused the job to stagnate. In 2008, Jeff Thomas had BR601 transported to New Zealand to finally begin restoration to airworthiness. Soon after, Peter Monk took over the project with Avspecs Ltd. in Ardmore, New Zealand.
Now, 72 years since BR601 was manufactured, and with her true place in history appreciated, this legendary British fighter aircraft has landed in the care of the Collings Foundation. This Spitfire was transported back to England in early 2014. Biggin Hill Heritage has taken on the task of finishing the last phase of restoration. We hope this iconic fighter will take to the skies again in 2016 and join the Collings Foundation's flying collection in the United States. Restoring this incredible aircraft to flying condition preserves the memories and legacy of our allied forces in an air-frame that was actually there at a pivotal moment in history.
Aces who flew Mk. IX BR601 –
Tony Gaze flew BR601 when he commanded No. 64 Squadron RAF. Frederick Anthony Owen "Tony" Gaze received a DFC & Two Bars, and was a decorated Australian World War II flying ace credited with 12.5 confirmed victories (11 plus 3 shared). After the war he went on to become one of the best-known race car drivers and Australia's first Formula One driver.
Tony won his first Distinguished Flying Cross (DFC) for shooting down 2 Messerschmitt 109s with 610 Squadron during a dogfight on July 10th, 1941. Tony flew with 616 Squadron until the August 29th, 1942, by which time he had destroyed at least 4 enemy planes.
Tony became Commanding Officer of 64 Squadron RAF where he was assigned to BR601. On Saint Valentine's day 1945, Tony became the first Australian pilot to shoot down a German Messerschmitt Me 262 jet. Tony scored several more victories before he was shot down over Le Tréport after downing a FockeWulf 190. Gaze crash-landed 20 miles from Dieppe with slight injuries. He evaded capture and made his way, with help from the French Resistance, to neutral Spain.
After the war, Tony became the first Australian to drive in a World Championship motor race when he competed in the 1952 Belgian Grand Prix. He went on to participate in four World Championship Grand Prix, numerous non-championship Formula 2 races across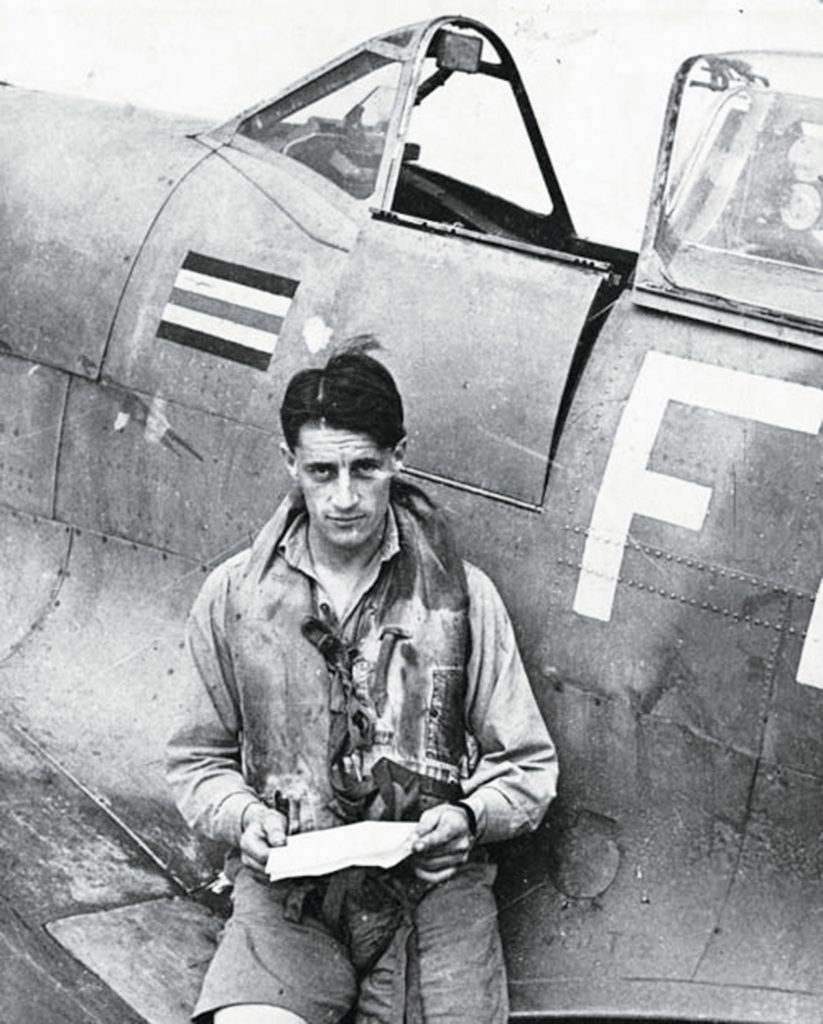 Europe, and competed in the Australian and New Zealand Grand Prix in the early 1950s.
Colin Falkland Gray was the top New Zealand fighter ace of WWII (picture on right.) Colin flew BR601 when he was Squadron Leader of No. 64 Squadron in September 1942. During the "Battle of Britain" Colin shot down 14 aircraft and had a half share in another by September 1940. He later added another 13 kills while leading fighter squadrons and wings in the North African and Italian Campaigns, finishing the war with an incredible confirmed 27½ kills.
*The Spitfire is currently being operated out of Worcester airport in Massachusetts and is not open for public viewing. Check our website or call for schedule of operation.