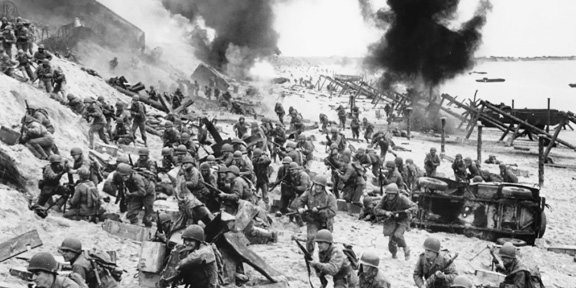 In partnership with the WWII Museum's Normandy Academy in New Orleans, the American Heritage Museum is offering an 11-day expense paid trip for one high school junior level student to France on June 26th to July 6th, 2023. The student will join the Normandy Academy group to see all the major sites related to the June 1944 landings. He or She will get an up-close view of the events and places involved in the Battle of Normandy. The student will spend several days visiting the landing beaches of D-Day, important sites related to German occupation and/or the Allied invasion, museums, and several cemeteries. He / She will also get to talk to a member of the French Resistance from the war and have dinner with her. Before leaving Normandy, students will visit the American cemetery and give a presentation on the service member they researched before placing flowers on his/her grave.
For more information on the Normandy Academy trip see: https://www.nationalww2museum.org/events-programs/educational-travel/student-travel-national-wwii-museum/normandy-academy
How to apply:
Write a one-page letter explaining why you would like to visit the historic Normandy landing sites.
Send letter to:
American Heritage Museum
c/o Hunter Chaney
568 Main Street
Hudson, MA 01749
Email is fine. Send to: hchaney@collingsfoundation.org
Requirements:
Application deadline is January 27th, 2023.
Student must be 15 years of age by the time of the trip.
Student must present their trip to an audience of peers and public at the American Heritage Museum and their own school.