Celebrating Woman's History Month, the American Heritage Museum is commemorating and encouraging the study, observance and celebration of the vital role of women in American history.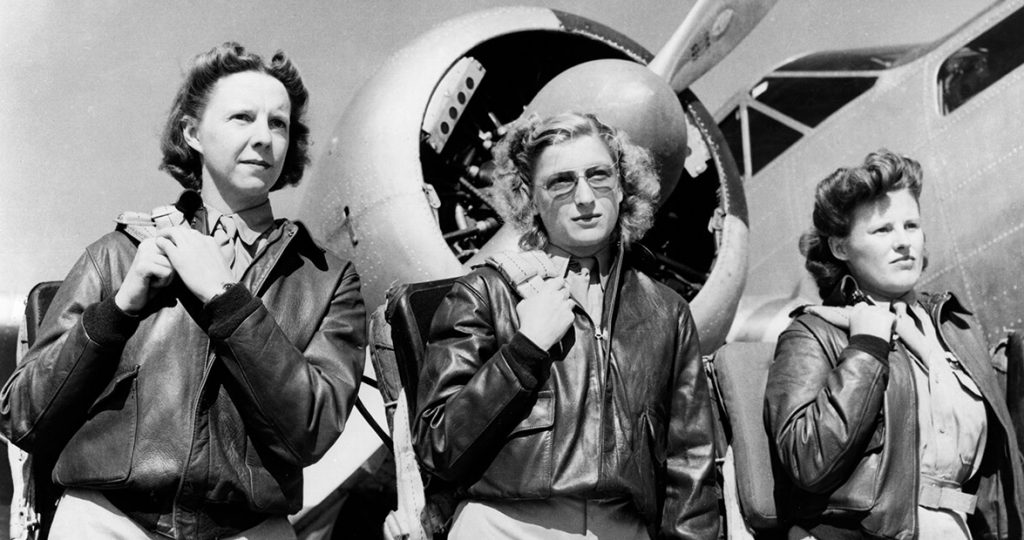 During WWII, women broke through many barriers in aviation. The Women Air force Service Pilots (WASP) (also Women's Army Service Pilots or Women's Auxiliary Service Pilots) was a civilian women pilots' organization, whose female members tested aircraft, ferried aircraft, towed aerial targets and trained other pilots. This was the first time in American history that women were allowed to fly military aircraft. The primary purpose of the WASP was to help free male pilots for combat roles during World War II. Despite various members of the armed forces being involved in the creation of the program, the WASP and its members had no military standing. The WASP arrangement with the US Army Air Forces ended on December 20, 1944.
The WASP transported every type of military aircraft; towed targets for live anti-aircraft gun practice; simulated strafing missions and transported cargo and flew over 60 million miles
Thirty-eight WASP members lost their lives while flying. In 1977, for their World War II service, the members were granted veteran status, and in 2009 awarded the Congressional Gold Medal. The WASP actively inspired many generations of women who serve as pilots in the US military.
The American Heritage Museum's F6F-3N Hellcat fighter on display has a special provenance being test flown by Cecil "Teddy" Kenyon, one of the three female Hellcat test pilots employed by Grumman during WWII.
Cecil (Teddy) Kenyon (1905-1985) was taught to fly by her husband, Ted Kenyon, a pilot for Colonial Airlines, in 1929. Teddy received her pilot license after 10 hours of instruction. After receiving her license, Teddy became a charter member of the "99s" and in 1933 she won the National Sportswomen Flying Championship at Roosevelt Field, New York. During the late 1930s Teddy flew for the Civil Air Patrol, and became a test pilot for Grumman during World War II. In her position at Grumman she had opportunity to fly the following types of Grumman aircraft as they came off the production line: F4F Wildcats; F6F Hellcats; and TBF Avengers. Teddy received her helicopter license in 1960 and remained an active pilot well into her seventies. Kenyon became a "star" in articles and advertisements of Grumman and other products. Kenyon was an exceptional pilot whose expertise and knowledge in flying the Hellcat helped considerably with the development and deployment of the Hellcat fighter aircraft during the war. She was known as the "tamer of Hellcats." This daredevil fighter pilot proved that women were just as (or more) capable of conquering the skies as men.
Read and hear more! See:
https://www.army.mil/women/history/pilots.html
https://www.npr.org/2010/03/09/123773525/female-wwii-pilots-the-original-fly-girls
https://www.cap.news/ninety-nines-pioneer-flew-for-cap-during-wartime/
https://timeline.com/teddy-kenyon-proved-female-pilots-could-conquer-the-skies-6d0fb4467a6