Each February, National Black History Month serves as both a celebration and a powerful reminder that Black history is American history. These stories and legacies are essential to understanding the history of America — our faults, our struggles, our progress, and our aspirations.
The American Heritage Museum will concentrate on four Black History profiles from WWII through the month of February. Our first segment focuses on Doris Miller, first Black American who received the Navy Cross for his heroic actions during the attack on Pearl Harbor –
Doris Miller (October 12, 1919 – November 24, 1943) was a United States Navy cook third class who was killed in action during World War II. He was the first black American to be awarded the Navy Cross, the highest decoration for valor in combat after the Medal of Honor.
Miller served aboard the battleship West Virginia (picture below), which was sunk by Japanese torpedo bombers during the surprise attack on Pearl Harbor on December 7, 1941. During the attack, he helped several sailors who were wounded, and while manning an anti-aircraft machine gun for which he had no training, he shot down several Japanese planes. Miller's actions earned him the medal, and the resulting publicity for Miller in the black press made him an iconic emblem of the fight for civil rights for black Americans. In November 1943, Miller was killed while serving aboard the escort carrier Liscome Bay when it was sunk by a Japanese submarine during the Battle of Makin in the Gilbert Islands.
The destroyer escort/Knox-class frigate USS Miller (reclassified as a frigate in June 1975), in service from 1973 to 1991, was named after him. On January 19, 2020, the Navy announced that a Gerald R. Ford-class nuclear powered aircraft carrier, CVN-81, would be named after Miller. The ship is scheduled to be laid down in 2023 and launched in 2028.
Miller, known to many as "Dorie," was born on October 12, 1919, during the darkest days of the lynching epidemic that blighted the South in the 20th century's first decades. Only three years before Miller was born, his hometown of Waco became the scene of one of the most brutal lynchings on record when 17-year-old Jesse Washington was burned alive on the lawn of the city hall. Miller was compelled to drop out of high school to help support his struggling family — "We were a little hungry in those days," his mother later explained — but when he could not find work, in September 1939, at 19, he joined the U.S. Navy.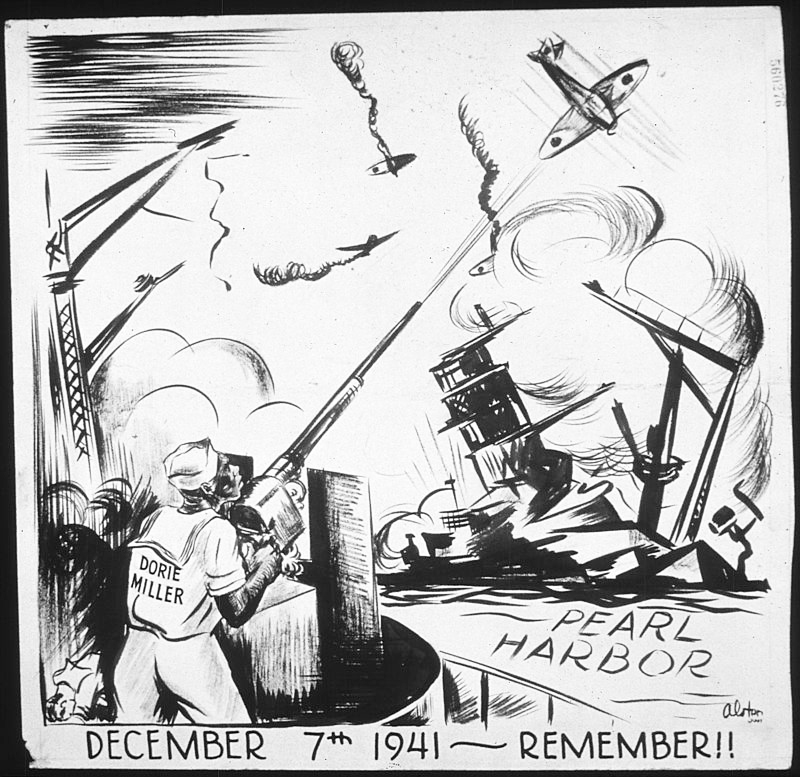 At that time, black men serving in the Navy were not only ineligible for promotion, they were consigned to the lowly messman branch, where they were tasked with making the beds and shining the shoes of their white officers and waiting on them in the officers' mess. As one of Miller's fellow messmen said, they were merely "seagoing bellhops, chambermaids, and dishwashers." By regulation, they could not be trained in or assigned to any other specialty, such as signals, engineering, or gunnery. Their battle station was below decks in the "hole" or magazine, where they passed ammunition up to the gunners. They were not even allowed to wear buttons marked with the Navy's insignia, an anchor entwined with a chain, and had to wear plain buttons instead.
The memory of his life has burned brightly as an example of how an underprivileged and oppressed young man from rural Texas can rise above poverty and racial discrimination — not only to display great courage, devotion, and patriotism, but to help alter the course of American history.
For more reading on Doris Miller see:
https://en.wikipedia.org/wiki/Doris_Miller
https://dorismillermemorial.org/doris-story/
https://www.history.navy.mil/browse-by-topic/diversity/african-americans/miller.html