Geoffrey Roth Watch Engineering has partnered with the Collings Foundation to pay tribute to the B-24J "Witchcraft" Liberator. This watchmaking brand and the non-profit organization share a passion for the preservation of American history and fine craftsmanship. The highlight of this unique partnership will be a limited-edition 250 piece run of Geoffrey's new HH7 Pilot Watch. For every watch sold, Geoffrey Roth will donate $250 to support the non-profit's important work and keep the B-24J Liberator where it belongs – in the skies.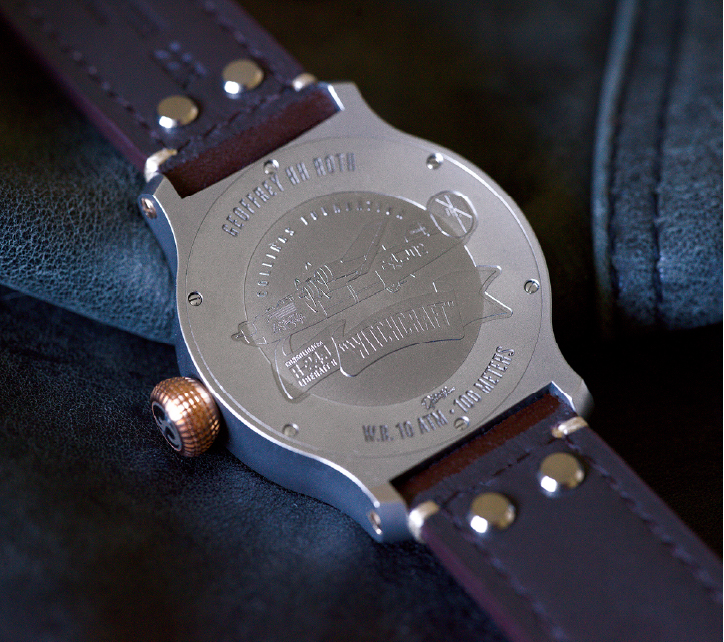 Known as the aircraft that never once turned back during a mission and kept all of its crewmen alive during World War II, the Consolidated B-24J Liberator played a role in the fight for freedom as extraordinary as its nickname: Witchcraft. Of the more than 18,000 B-24's built, this one restored by the Collings Foundation stands as the world's only airworthy B-24J. Today, Witchcraft visits more than 120 airports nationwide as part of the Wings of Freedom tour. But it's possible to take a closer look at the aircraft and check its incredible interior by taking a virtual tour anytime.
To celebrate and support the foundation's vital work, Geoffrey Roth is proud to announce the launch of a 250 piece limited-edition run of their HH7 Pilot Watch, created and hand-assembled in his studio in Scottsdale, Arizona. The watch starts with a 42mm matte finish case milled from a solid billet of 316L stainless steel; it features Swiss SuperLuminova
printing on the dial and is equipped with a high-quality 24 jewel automatic movement, protected behind a solid 316L caseback engraved with a unique illustration of the B-24J "Witchcraft" Liberator. The watch's color scheme, with its stainless steel case, its black dial and brown leather strap, completes the ensemble and is reminiscent of a traditional WWII pilot look. This very special HH7 model debuts for $2,250 and will be available exclusively at gr-we.com. For every watch sold, Geoffrey Roth will be donating $250 directly to the Collings Foundation to preserve this legendary B-24J.
For avid watch collectors, aviation enthusiasts, WWII history admirers, and American patriots in general wishing to carry an exquisite reminder of freedom on their wrist, there has never been a better time to acquire a Geoffrey Roth timepiece.
ABOUT GEOFFREY ROTH WATCH ENGINEERING
At GR-WE, every timepiece is meticulously handcrafted and combines Swiss-made ETA movements with American innovation and flair. We have been committed to a tradition of excellence from the start. Our timepieces are the result of meticulous attention to detail, mechanical precision, and timeless design. Geoffrey Roth Watch Engineering uses exquisite materials, precision tools, and CNC machining to ensure his watches can be made precisely to his design and standards. Today, we are among the few visionaries resurrecting the art of fine watchmaking in America.
For more information on Geoffrey Roth Watch Engineering, please visit gr-we.com