Help Support the American Heritage Museum with your Advance Sale Admission, Membership, and Gift Shop Purchases…
And Get the Chance to Experience a Once-In-a-Lifetime WWII History Experience!
First of all, it is our profound hope that everyone in your family is safe, healthy, and following the CDC rules that seek to get us through this unprecedented public health crisis.
We also would like to take a moment to thank you for being a friend of the American Heritage Museum. We appreciate your support over the years as we planned, built, and opened our new museum. Your enthusiasm and dedication to our living history mission is one of the primary reasons why we have been able to meet our shared mission of preserving our nation's heritage.
Like many Americans, you might be reading this from home right now, as the impact of the Coronavirus spreads around the country. You might also be reading this from your work at one of our designated essential sectors helping to fight this outbreak or provide needed services to citizens.
And, like you, we are also feeling the effects of the Coronavirus here in Massachusetts. The American Heritage Museum has closed to the public through at least April 10th and all scheduled school visits through the end of April have been cancelled or postponed by schools impacted by this crisis. With this, our much needed operational fundraising has come to a halt.
Inspired by the American people in World War II, our small staff is rolling up our sleeves and doing what needs to be done by any means possible in this difficult time.
We ask for your help.
While we are doing more with less, you can help contribute to our shared efforts to preserve our mission of honoring those who have protected our nation. And you can do it from home on your computer or smartphone. Your purchase of advance admission tickets, membership, gift shop merchandise, tickets to the Battle for the Airfield, or even a one-time or recurring donation all goes to help us continue our mission during this difficult time.
For choosing to help us this month, we would like to give you the opportunity to win the experience of a lifetime with the American Heritage Museum…
Make any purchase or donation between now and May 3rd through our website, and be automatically entered to win a VIP package that includes…
Four VIP tickets to the Battle for the Airfield WWII Re-Enactment in October.
Four ride positions in the turret of the WWII M10 Tank Destroyer.
And one seat as the Co-Driver for our 1944 M4A3 Sherman "Liberty" during one of the battles of the re-enactment – a front-seat for a trip back in history!
*This is something that has never been offered in any donation opportunity and allows you to become a part of the re-enactment in a unique and compelling way!*

Just follow the links below to help support the American Heritage Museum to be entered to win…
---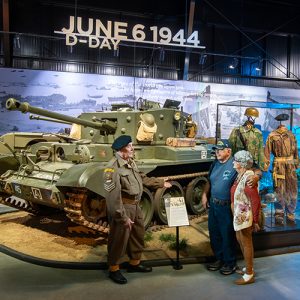 Purchase Advance Sale Tickets for the American Heritage Museum…
If you've been planning to visit the American Heritage Museum in the future, your advance sale ticket can help us through this tough time. Purchase your tickets online and print out the tickets that are emailed to you and you'll be ready for your next visit. Tickets can be used for General Admission for any regular open time and never expire.
Click here to purchase advance sale admission…
---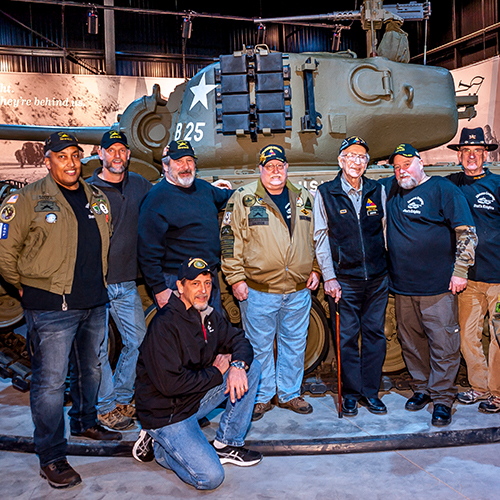 Become a Member of the American Heritage Museum…
If you are planning to visit the American Heritage Museum regularly or might be interested in becoming a volunteer, membership is a fantastic way to contribute each year and become an active part of our mission. Membership is available for both individuals and families and includes great benefits such as free admission, discounts, and our publications. We also have Lifetime Membership now available to make an even greater impact.
Click here to purchase a membership online…
---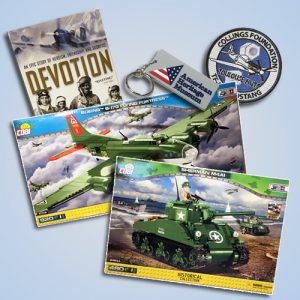 Purchase from our Online Gift Shop & PX
As many of us are at home weathering out the outbreak, this is an opportune time for reading and playing. We have some great items in our PX store to bide the time. Our top pick for kids of all ages are the Cobi building block toys. These are really nice, fun to build, with good quality and detail – we have a great variety! This is also a great time to pick up a good book. Our top recommendations are Unbroken by Laura Hillenbrand and two books by Adam Makos; A Higher Call and Devotion. All are epic stories that will educate and entertain!
Click here to browse our gift shop online…
---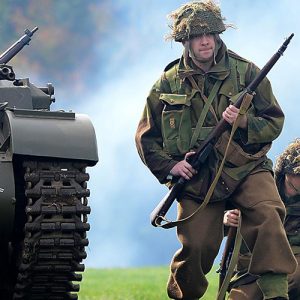 Buy Discount Advance Sale Tickets to the Battle for the Airfield in October!
We know October still many months from now, but if you are a long-time attendee of our Battle for the Airfield WWII Re-Enactment over Columbus Day weekend, you can purchase discounted advance sale tickets right now. Tickets are $28 for adults and $15 for children under 12 ($35 / $20 at the gate).
Click here to buy tickets for the October "Battle for the Airfield"…
---

Make a One-Time or Sustaining Donation
If you just want to help us out in this time of need, you can make a one-time or a sustaining donation. A sustaining donation is an easy way to make an automatic donation each month by credit card to make a greater impact spread out over the term of a year.
Click here to make a one-time or sustaining donation…
---
Thank you for helping us out and good luck!
We appreciate your support in any way during this challenging time and look forward to your entry in the Tanks for Being a Friend drawing. We will announce a winner on May 4th, 2020 and notify by email or phone.
Please stay safe and healthy wherever you are!