Liberation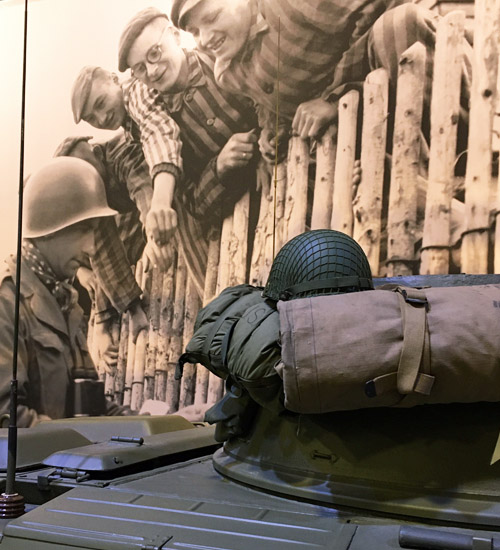 M8 Greyhound – USA | ARMORED CAR
Liberation of Europe
The final battles of the European Theater of World War II as well as the German surrender to the Allies took place in late April and early May 1945. WWII in Europe lasted six long years, from 1939 to 1945, with American participation from December 1941 to May 1945. Europe was freed from Nazi rule. World War II was the last great global war and has long functioned as the conflict by which all other wars are judged. It is a conflict often represented as an  archetypal struggle between good and evil, but it was also a war of clashing national and imperial interests, material production, reduced inhibitions to destruction on all sides, and terrible means ranging from deliberate starvation of civilian populations via sea blockades, to aerial destruction of hundreds of cities, to deliberate genocides, that by the end, saw 75 million people killed. For all that, the Liberation of western Europe was also a triumph of morality and justice over the most evil, ruthless, and criminal regimes of the 20th century. The Liberation is also an enduring lesson in collaboration and cooperation in wartime by a winning military and political coalition, which overcame internal quarrels and differences in a shared effort.
As the war neared its end in Europe Allies came across numerous Nazi concentration camps filled with sick and starving prisoners. In every camp we found appalling scenes and the bodies of thousands who either died of starvation or were murdered. Majdanek near Lublin, Poland was the first camp liberated in July 1944, by the Red Army (most of the Nazi death camps were built in the east, and so were liberated in 1944-1945 by the advancing Red Army of the Soviet Union). Germans tried to cover up their atrocities by demolishing the camp, but parts of the gas chambers were left standing. When the Soviets overran Auschwitz in January 1945, only a few hundred prisoners remained, the rest having been forced onto one of many 'death marches' so that they could not bear witness to what had been done. Nearly 1 million Jewish men, women and children were murdered here along with others that were deemed "sub-human" or "useless mouths" or "enemies of the state" by the Nazis.
American forces would liberate concentration camps including Buchenwald, Dora-Mittelbau, Flossenburg, Dachau and Mauthausen. The Mauthausen work camp was used for extermination through labor. Many prisoners died hauling massive blocks of stone up the "stairs of death." On May 3rd, 1945. Allies neared Mauthausen and its nearby sub-camp Gusen. Most Nazi SS camp guards had fled. On May 5th, a reconnaissance unit from the US Army arrived and liberated over 40,000 prisoners. The scene of death and starvation sickened even the most hardened soldiers. General Dwight Eisenhower was so affected by what he witnessed at the Ohrdurf concentration camp on April 12th, 1945, he refused to meet with German General Alfred Jodl and his aid until after they signed the unconditional surrender document at his headquarters in Reims, France on May 7th, 1945.